Eternally grateful to my wonderful couples.
The gratitude goes both ways.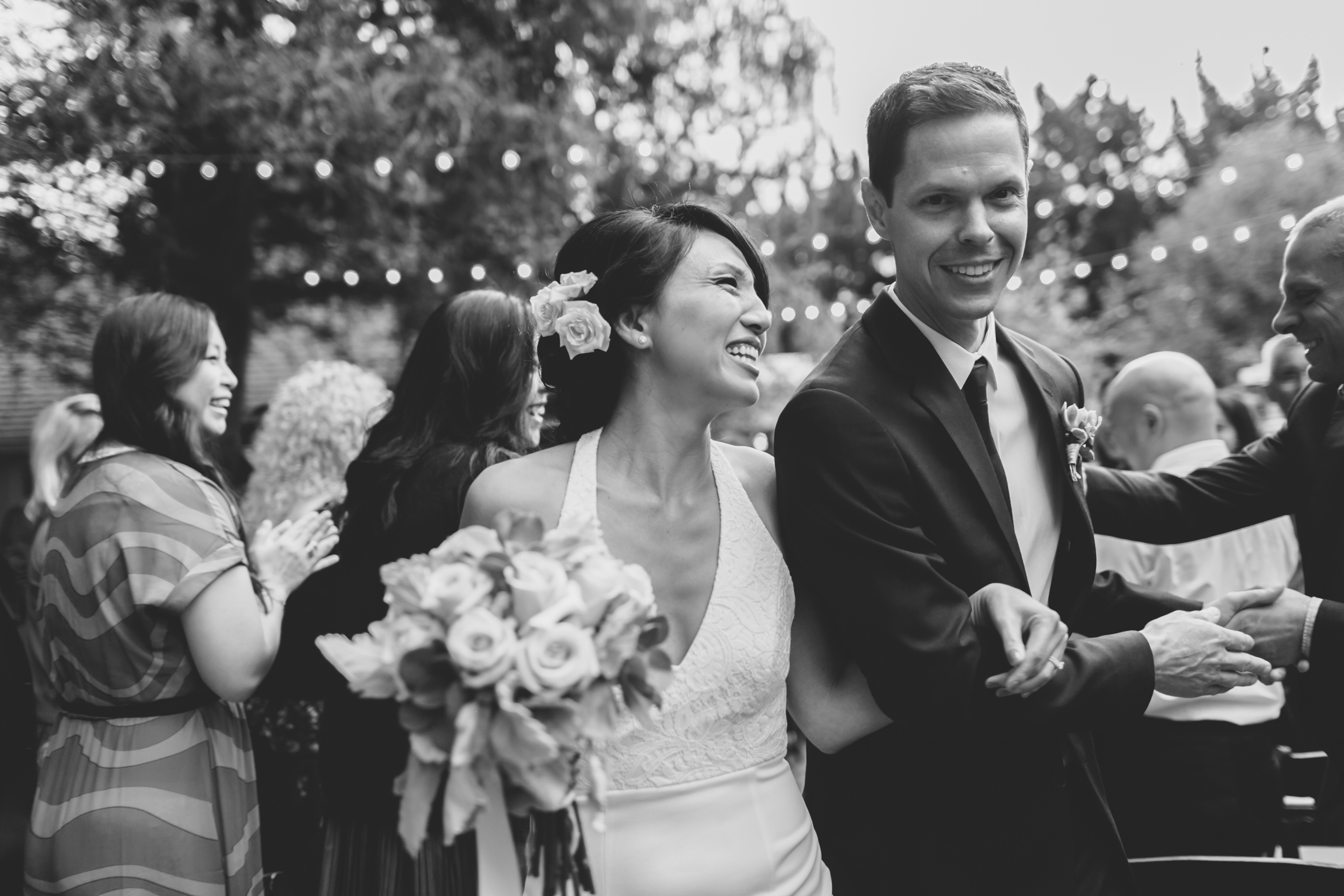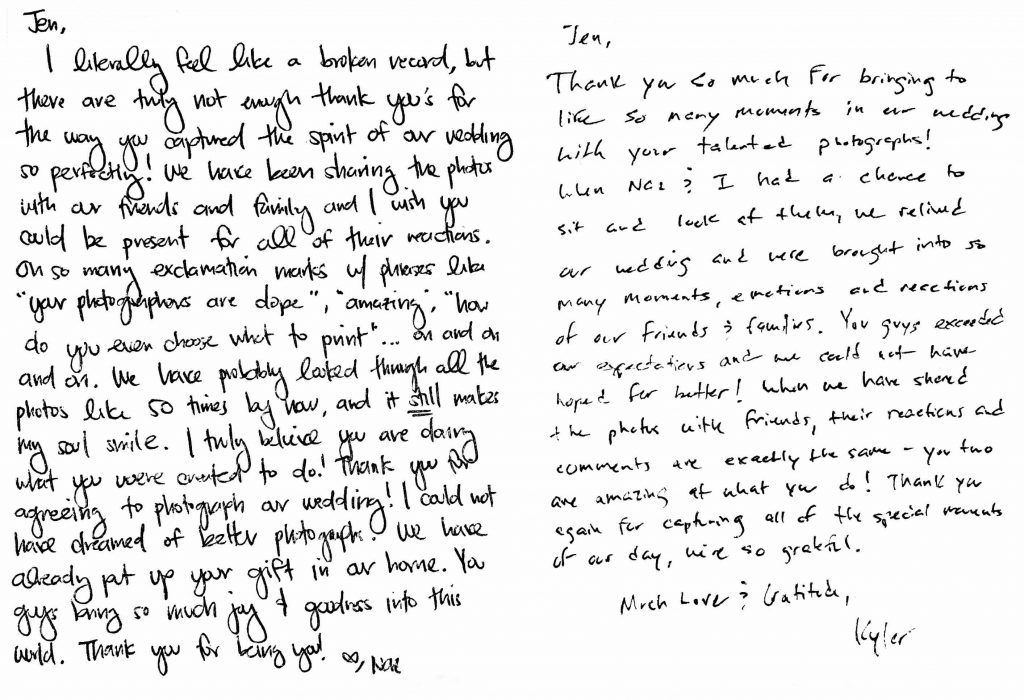 -Naz & Kyler, married 2016
"Dear Jen, There are no words to describe how much we love our wedding photos. Every moment you captured SO beautifully. You are an incredibly talented artist and a wonderful person. You have gone above and beyond our expectations, and from beginning to end you've gone out of your way to be helpful and fair. It was a pleasure to work with you. We wish you continued success and thank you again for our stunning photos!"
-Ashley & Patrick, married 2009
"We are so damned lucky to have met you and even MORE lucky that you would be the one to help document our wedding day. What a special thing to be able to share. We spent over an hour this morning going through all of the photos and we constantly found ourselves tearing up, cracking up, or just plain grinning from ear to ear. We had an amazing time that day and somehow you were able to capture it in every way. We look forward to posting these photos all over and sharing them with family and friends, all the while bragging about how talented you are! Thank you again a million times over! You make us so damned happy."
-Spencer & Emily, married 2016
"My wife and I are beyond thrilled to have had Jen with us on our big day. We began following Jen's work on Instagram quite some time ago and we knew we'd made the right choice as soon as we received her response to our initial enquiry. From the outset, Jen has been one of the most genuinely lovely people either of us have ever dealt with for anything. She presented us with a few great options for our needs and also shared her ideas on what might work well for the day. We got a real sense from her early on that she was 100% onboard and genuinely excited to know and work with us. On the day, we couldn't have asked for more. She was incredibly laid back and fun to work with – so much so that since the wedding, several guests have asked me if our photographer was a friend of ours. It certainly felt that way. All of our guests loved Jen, and having gotten to know each other over email in the months leading up, it felt like she was really there for us. Jen went above and beyond on the day – we'd just booked her for a few precious hours and her flexibility and willingness to work with our MC on the day helped ensure all the important moments were captured. They made some great suggestions and we ended up changing the timing of a few things that really improved the overall flow of the reception. Thanks a million, Jen – you absolutely rule.
-Andy & Kim, married 2019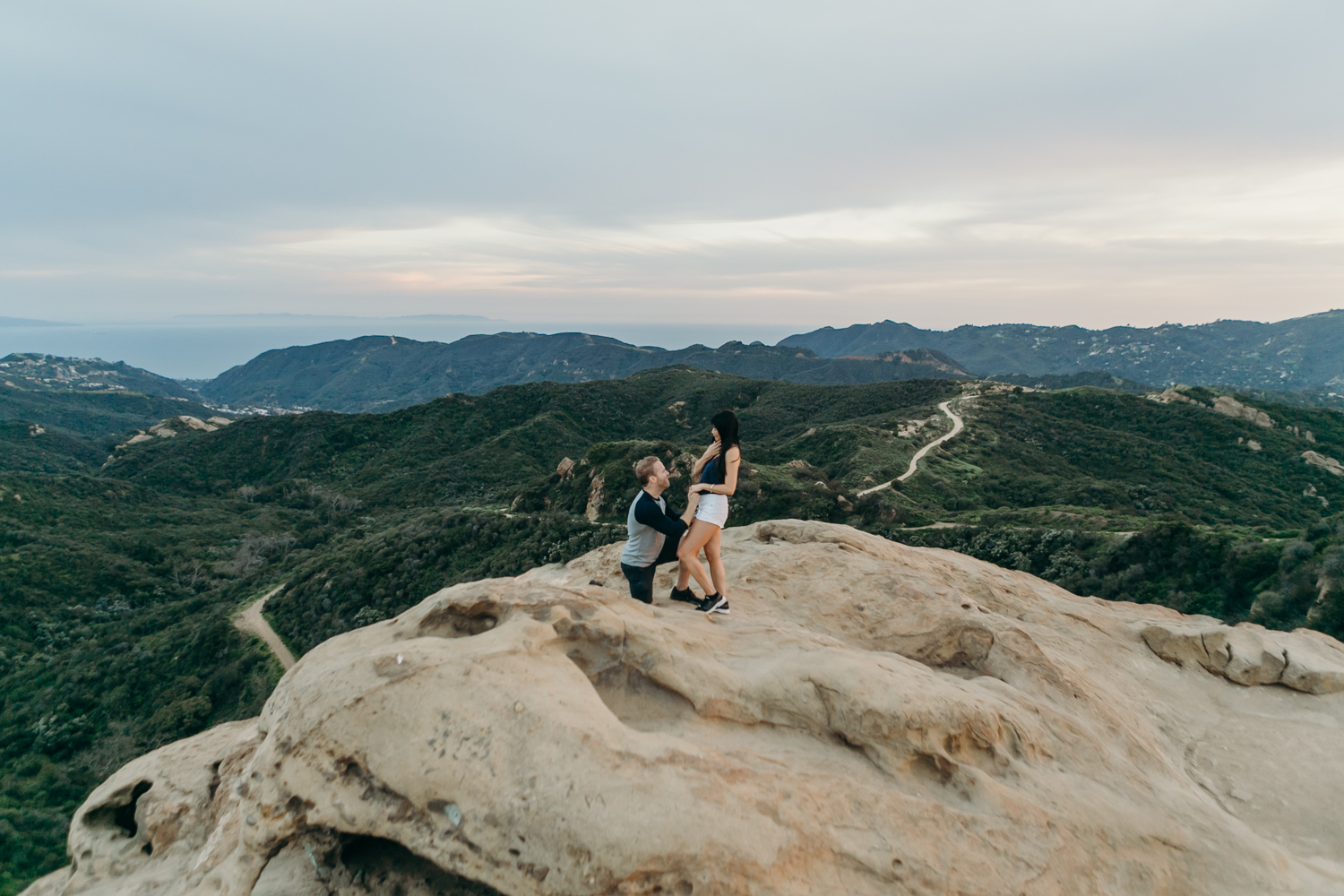 "Jen!! Adam was out of town this weekend so I (im)patiently waited for him to get back. We looked at them last night and we love them so much!! Thank you for making us feel comfortable (you can definitely tell as you go through the photos!) and putting up with our bad jokes! We had a great time and now have these great memories to share. Thank you!!"
-Laura & Adam, engaged 2017
"Ahh Jen!! We're obsessed! There's so many good ones, we're having such a hard time narrowing down our favorite. We'll let you know which one(s) we pick!! Thank you again!!!!!"
-Lauren & Bryan, engaged 2017
"JEN!!!!! OMG. WE HAVE NO WORDS TO EXPRESS OUR JOY RIGHT NOW. We made it to San Sebastian for our honeymoon and waited until we were at the hotel (with a glass of wine) to look through these and OMG. We literally screamed through every picture. I'm not eloquent enough to say in words how much we love these photos and how amazed we are at all the moments you captured! We could not have even imagined photos as beautiful as these and can't believe they're just the previews! We will send you a more formal thank you note (there's so much more we are grateful for beyond the photos about your presence on our wedding day), but wanted to send you a quick one before you head out to Burning Man. THANK YOU!!!"
-Hari & Jim, married 2019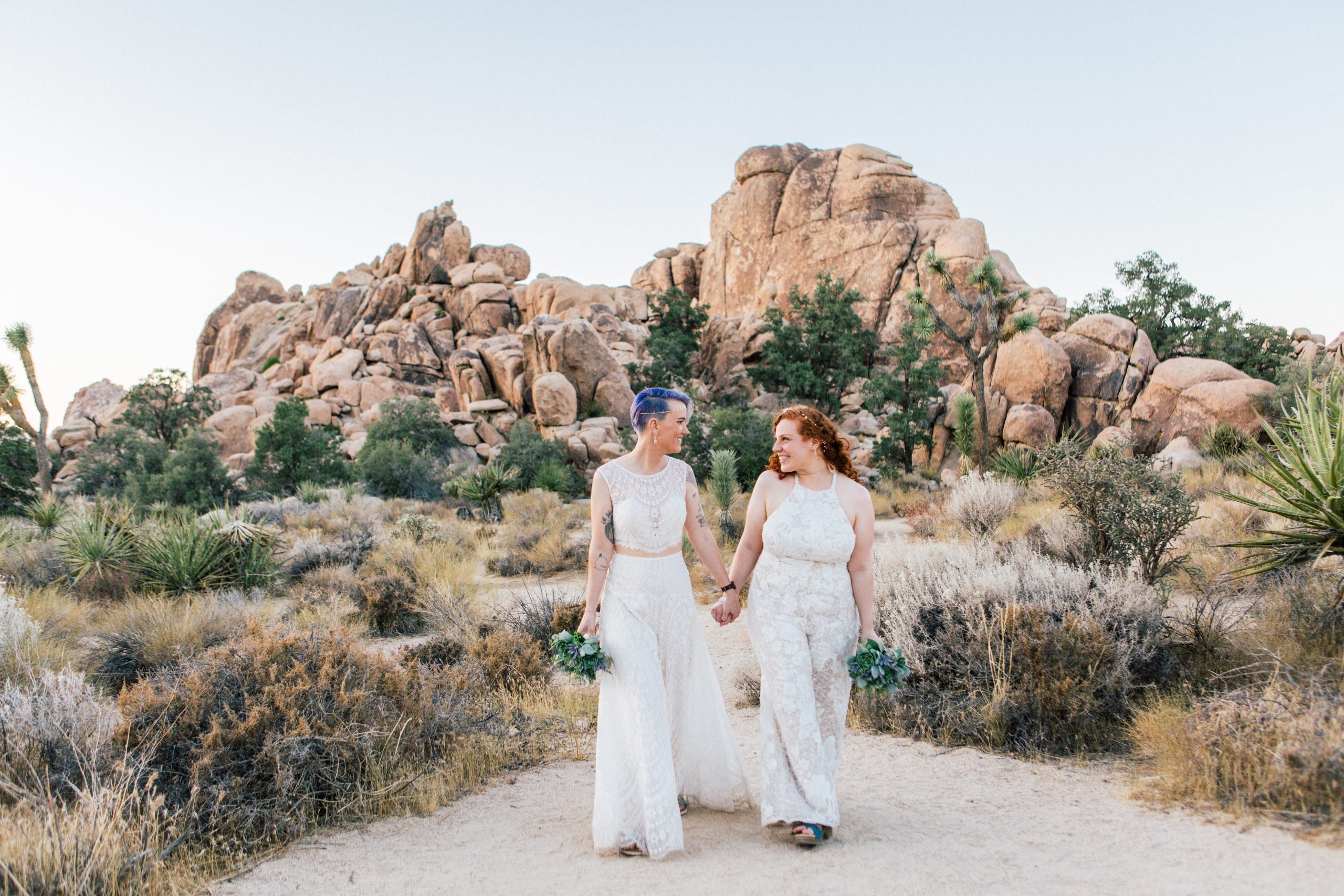 "The search is over! I HIGHLY HIGHLY recommend Jen Wiley!! My husband and I got married on April 26 2015. Choosing a photographer was one of the most difficult things during the wedding planning process. I was especially picky with style and lighting. Our wedding was at Carondelet House which is an indoor venue with several rooms and a couple courtyards, so logistically it is challenging. After countless searches of photographers, especially ones that have worked at Carondelet House, Jen's photographs (which my husband found on Pinterest) were the ONLY ones that mesmerized me and left an indelible mark in my brain! She captures a couple's story so well with candid emotions, beautiful lighting, and perspectives no other photographers would have captured! I had to track her down! I knew she was the one when I met with her for coffee at a very short notice. Our personalities meshed so well and she has such a positive energy that I knew my husband and I would be very at ease in front of her camera. She has such an outgoing and lovely personality but at the same time very professional and punctual when it comes to emails and meetings. It's been 6 months since my husband and I got married and we just LOVE LOVE LOVE looking back at our photographs. Jen did an awesome job with taking us to our HAPPY PLACE…..SIGH!! The pictures were vibrant, flowed like a story, and captured our blush and gold Old World vintage theme so well. The pictures came out more beautiful than I had imagined! So much so that recently we found out that Wedding Chicks, a popular wedding website, will be featuring our wedding. We are sooo stoked!!!!"
-Karren & David, married 2015
"TL;DR Took our wedding photos two years ago. Had to write this review. Will never forget Jen and would highly recommend her to everyone. I was looking for a photographer to capture a moment in history my wife and I wanted to save. This person had to be the best we could afford. After the initial meeting we ended up making an amazing friend that we would've wanted to just be a guest at the wedding. If you were like us and scrolled endlessly through albums looking for someone that takes the right photo, don't forget the importance of the person behind the camera. Jen has such an amazing bubbly personality with her heart on her sleeves it bleeds into her passion of taking photos. Just look at all the amazing photos she has! I have no idea who the DJ, caterer, or half the guest list was, but I know Jen."
-Giahuy & Jennie, married 2014
"Jen is amazing (just read the rest of her glowing Yelp reviews!!!!) She photographed our engagement session and wedding in Chicago in July, and we couldn't have made a better choice. We were initially drawn to her photojournalistic style and after our first meeting, we were sold by her warm, outgoing, and cheerful personality. It was important for me to not only love the photo style (none of those posey boring shots here) but also to connect with the photographer. During our engagement session and beyond, Jen remained incredibly positive, in a genuine way, which made us newbies to the camera lens as comfortable as can be. Apart from her awesome personality, she delivers a quality product. Her passion for photography and her ability to put her emotions into her work sets her pictures apart from others. I also cannot tell you how many compliments we have received on our wedding pictures (and engagement photos which we used for the save the date). Please check out her photoblog on her website! I recommend Jen Wiley without reservation."
-Amy & Matt, married 2012
"Oh my goodness, I am almost speechless I don't know what to say!! I can only tell you that I started crying as we were viewing our pictures – just the intense emotional feelings of reliving our wedding day came over me and the next thing I knew, tears were running down my cheeks! Don't worry- these were happy tears at seeing the beautiful pictures you took. I am sure you hear that a lot, but truly, you captured the best moments on our wedding day, and we thank you so much! I just keep looking at them over and over!!
-Elizabeth & Jody, married 2009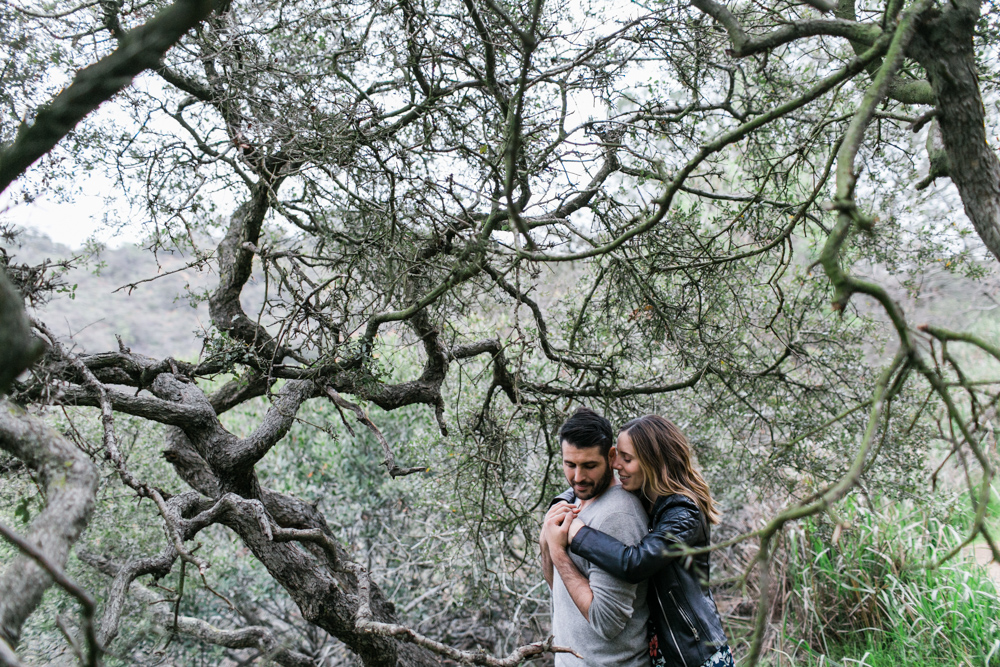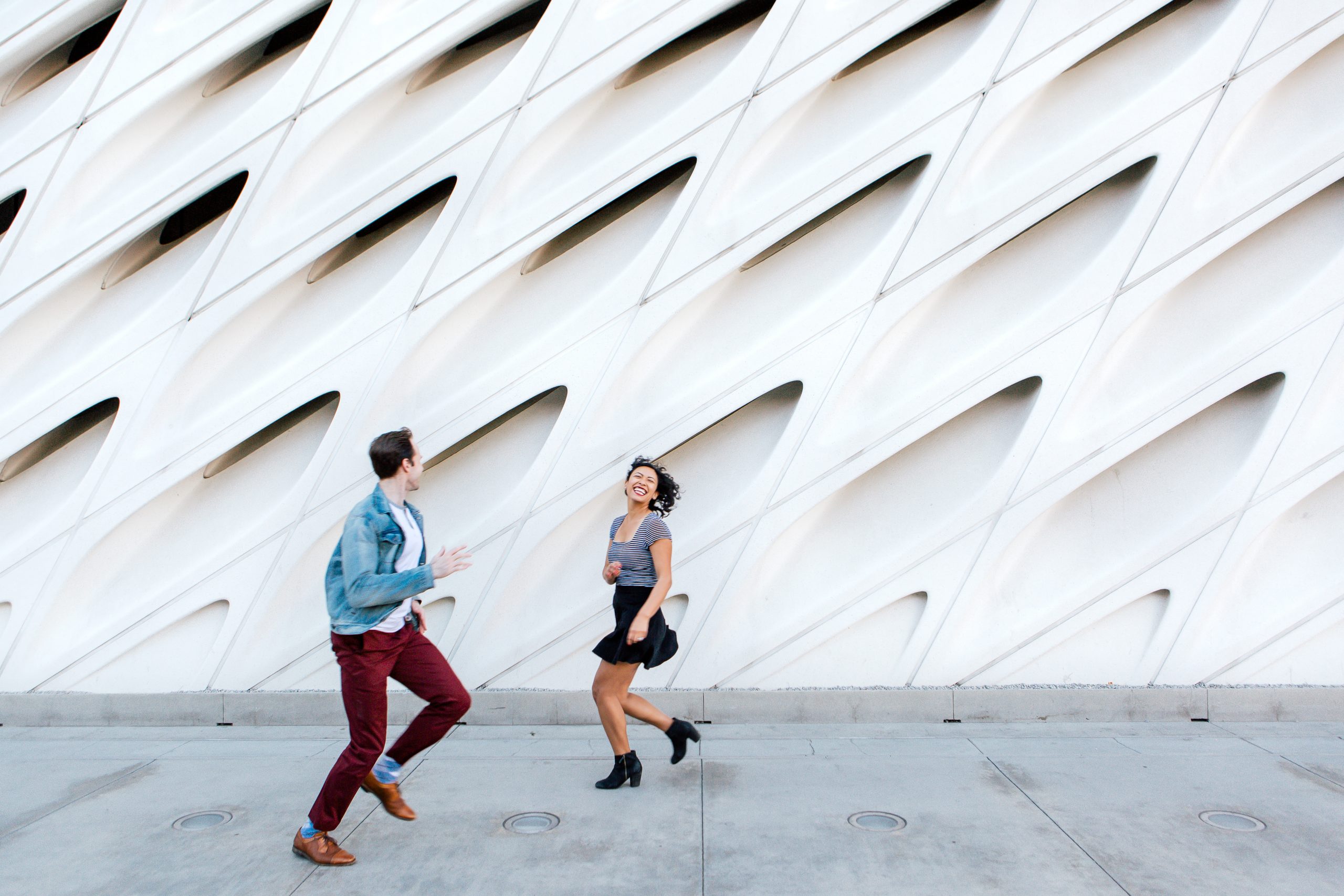 "We hired Jen as our wedding photographer, and, as two introverts, easily clicked with her. In our initial engagement shoot, she made us feel so comfortable in front of the camera – at times we didn't even notice she was there. On our wedding day, she helped put us at ease, made our first look photoshoot incredibly fun, and made our family photos extremely quick and painless while still capturing all of the shots we were hoping for. We are incredibly happy with how our final photos turned out, and are looking forward to working with her on our wedding album. Jen was absolutely fantastic to work with and we would hire her again in a heartbeat!"
-Jane & David, married 2016
"Jen was simply amazing at our wedding. First off, she takes great photographs. We cast a wide net for wedding photographers, since we're based in Minneapolis and were planning a wedding in San Francisco. Once we started considering flying someone in vs. using a local San Francisco photographer, there were a ton of options. But seeing Jen's work, and then meeting her to do our engagement session, it was clear that she was a great choice. She can do simple + elegant, as well as spontaneous + emotional equally well, which is right up our alley. So, her photographic work is top notch. What else is there? Probably even more important: she's awesome to have at your wedding. She was such a positive presence, it was really just a pleasure to have her there. Particularly in the hours leading up to the event, she was all optimism, all can-do, all cheerful. She handled our families and various event staff gracefully, and somehow managed to be just about everywhere at once. All of our guests that mentioned interacting with her told us she was wonderful and so easy to work with. We hired a lot of people in the course of planning our wedding, and there are few that we would, without any hesitation, recommend to a friend. Jen is one of those people – if we were starting over and had to hire everyone again, we would definitely hire her."
-Nick & Ella, married 2011
"We can't begin to say how much we loved working with Jen. First of all, her personality is wonderful. She is so positive and is such fun to hang out with. She made us feel right at ease during our engagement session and we knew our wedding day would be so fun knowing that she would allow us to be our silly selves without too many "posed" pictures. The photographs themselves are absolutely stunning and very much unique, which make her photos stand out. We searched high and low for our perfect photographer (after all, when we are old and grey, the photos are what we will most likely cherish) and Jen was our perfect match! All the photos are natural and capture the fun, love and laughter of the day. Our reception was at a vineyard and those shots at sunset are just spectacular! She was able to capture shots of our family and friends that show such emotion and happiness. We know that we made the right decision in hiring Jen for our special day and we can't wait for our next photo shoot with her (baby shoot is next!!!!)."
-Aline & Brian, married 2013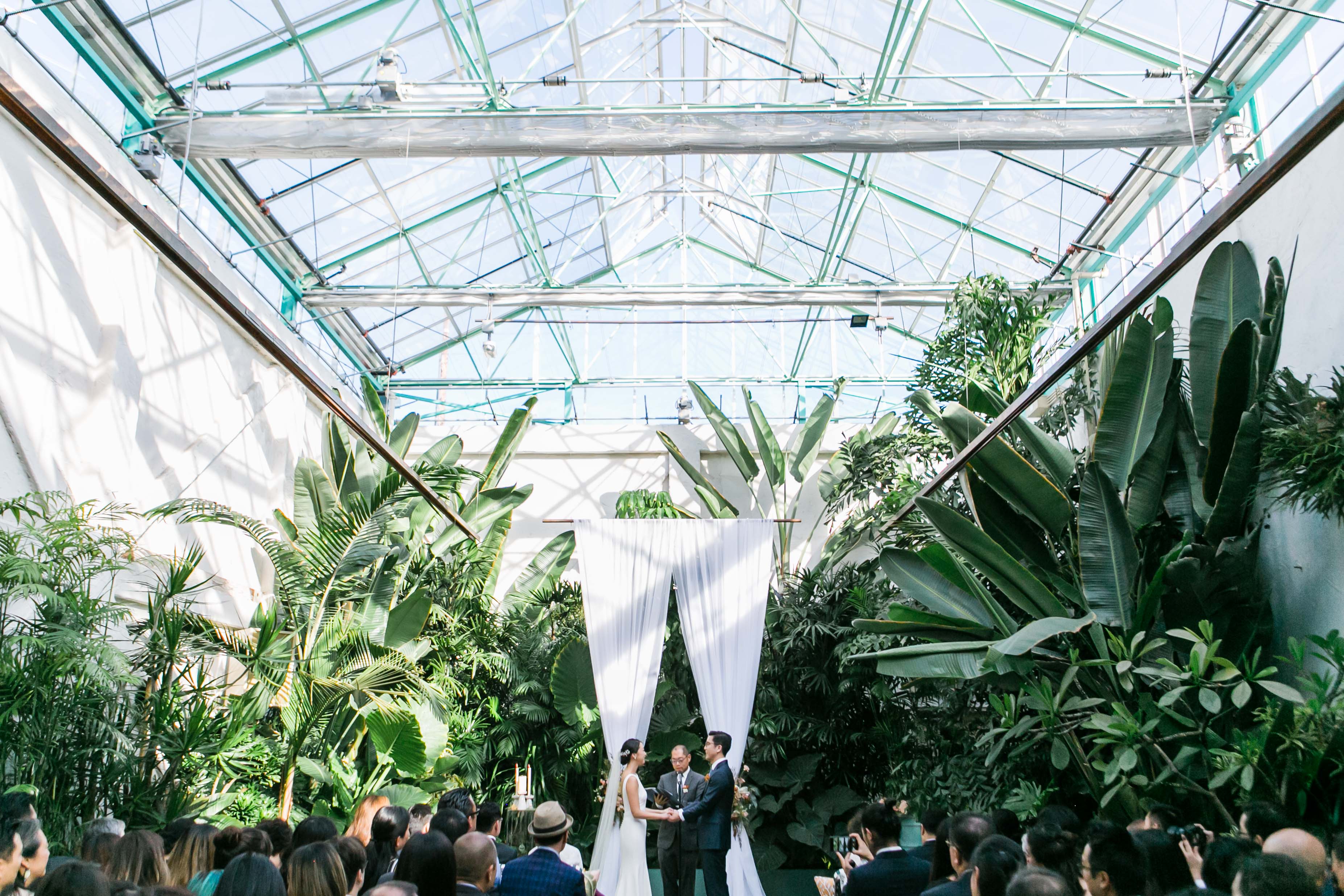 "First and foremost, Jen defines dedication while being exceptionally good at her craft. She spent her birthday with us for our elopement. The whole time she was cheerful, friendly, yet focused. We love the photos and have heard wonderful praises about them when we shared them with family and friends. While picking a photographer, we both had separate lists. Not to our surprise, J Wiley Photography was both of our first choices. I appreciate that her photos don't just capture wedding couples but also the world around them. The photos tell a story in an artistic way and there is a feel to her photos that you don't get with most others. Jen did a wonderful job despite all odds being against her. The weather being finger-numbingly cold (I was impressed she could hold onto her camera, not to mention change lenses and tweak all the buttons), quickly fading sunlight, a hike into the park and the list goes on. Against all odds, the photos came out beautifully, capturing aspects of us that we don't think have ever been documented that way before. Jen understood the spirit of our elopement. Having her with us on our day was a lovely experience. We are now on the lookout for reasons to get pictures taken again by Jen."
-Shannon & Susie, eloped 2014
"My fiancé and I asked Jen to photograph our engagement session, and we were so incredibly happy with this decision. Right from the get-go when we contacted her, Jen was friendly, excited, and supportive of our hopes and vision for the shoot. She gave us helpful tips on what to wear and was 100% in for including our little dog in part of the shoot- a must for us! We instantly clicked with Jen, and she really put us at ease in front of the camera. We had so much fun exploring our neighborhood with her and heading down to the beach. Jen captured our relationship in a special, organic way- she gave us just enough direction to get great shots, but my favorites were the shots she captured of us in the "in-between" moments. Not only did we have a blast hanging out with Jen, but our pictures are so incredibly special to us and turned out better than we could have imagined. THANK YOU, Jen- you are so talented and a true gem!"
-Krista & Nathan, engaged 2013
"I found Jen through my own Yelp & online wedding searches. I was looking for someone to capture our elopement that I would trust and whose work I loved. The photos on her website and blog speak for themselves but it was Jen's passion for what she did that blew me away. We had the most incredible time with her on our wedding day! We all laughed the entire day & took in each moment. I cannot say enough about my experience."
-Ashley & Ryan, eloped 2016